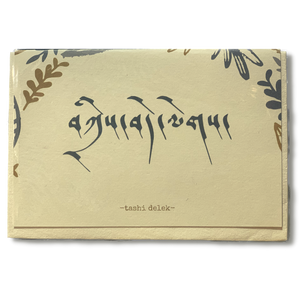 Tashi Delek Greeting Card-
Hand-printed in India with Tibetan and English wording--by MAPCHA's Himalayan Design Studio!
Blank inside, 10x15cm card plus envelope included.
Kindly respect the sacredness of this image: don't place it on floors, seats or steps or put anything on it--it should be high or at eye level.
And when disposal is required, kindly burn it.
Imperfections may occur due to the handmade process.