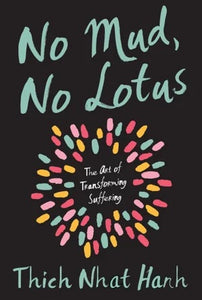 *New Book*
No Mud, No Lotus - The Art of Transforming Suffering
"Thich Nhat Hanh shows us the connection between inner peace and peace on Earth." - His Holiness the Dalai Lama
We all want to be happy. There are countless books and teachers in the world that try to help people be happier. Yet we all continue to suffer.
In No Mud, No Lotus, Thich Nhat Hanh offers practices and inspiration for transforming suffering into true joy. He shares how the practice of stopping, mindful breathing, and deep concentration can generate the energy of mindfulness within our daily lives. With that energy, we can embrace emotional and physical pain and calm it down, instantly bringing relief, freedom, and clarity.
No Mud, No Lotus introduces ways to be in touch with suffering without being overwhelmed by it. "When we know how to suffer," Nhat Hanh say, "we suffer much, much less." With his signature lucidity and sense of humor, Thich Nhat Hanh helps us recognize the wonders inside us and around us that we take for granted and teaches us how to be truly happy.
Number of pages: 124

Soft Cover
Book approximate measurements:
Length: 20.5cm
Width: 14cm
Depth: 1cm